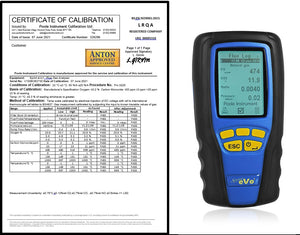 Your purchase of service and calibration includes the following:
Insured delivery to our service & calibration Centre via your local Post Office  
Calibration Certificate showing as found and (where applicable) after adjustment results
Free upgrade to the latest firmware*
Return delivery back to you.
After you have made your purchase you will receive and email conformation, the conformation contains a link to generate your return shipping label and QR code
To return your Analyser to us for calibration follow these steps
Select your instrument, add to basket and check out
Receive email purchase confirmation and click the link to generate a FREE return label and QR code direct from Royal Mail
Place your equipment (Analyser only, or whole kit) into a suitable box and secure
Take the box to your local post office
Show your QR code at the post office counter
We will do the rest, you will receive your equipment back within 3 working days*
Any Questions? Why not give us a call on 01202 656160, we are here to support you  
Any additional repairs not covered by the standard service to be quoted separately.
UK addresses excludes NI due to increased delivery charges
Highlands and islands may have an increased delivery time due to increased distance.