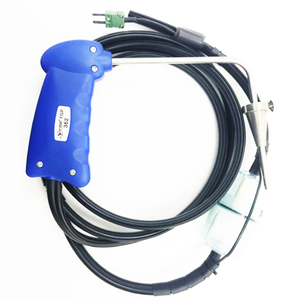 Description:
HANDY FOR TIGHT AND HARD TO GET TO SPACES
Anton PRB29000-B combustion probe for Anton Sprint flue gas analysers with 90° bend, to get into those hard to reach test points. Bend length is 130mm long, overall probe length 250mm long x 6mm diameter shaft, integral thermocouple, moulded handle and depth stop.
Complete with water trap and filter. 

Suitable for the following Analysers:


Anton Sprint eVo1
Anton Sprint eVo2
Anton Sprint eVo3
Anton Sprint eVo4
Anton Sprint eVo5
Features Include:

K-Type thermocouple
90° Bend
Filter bowl and filters